We Create Professional & Converting Websites
A website says a lot about the professionalism of a company. And we understand that all too well. That's why we create websites to show off.
100% Satisfaction Guarantee
Online within one week
incl. Hosting & Maintenance
Quotation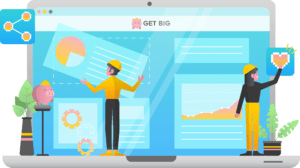 Free Website Scan
Do you want to know how your website is doing? Request a free and non-binding website scan!
Affordable
Thousands of euros are often asked to create a website. We think this can be done cheaper. You can have a website made with us from as little as €749.
Fast Delivery
Waiting months for your website? Not with us. Due to our personal and effective approach, we guarantee that the website will be online within one week!
Clear agreements
Every wish of the customer is heard and acted upon. We will inform you in good time if something needs to be delivered and if there are any questions, we are always available.
More Than Just Building
Of course it is important that your company's website looks professional, neat and well-arranged. But it doesn't stop there.
Optimized for Search Engines
We make sure that your website can be found on Google!
Responsive Design for every device
Each website is optimized for laptop, tablet and mobile devices.
Hosting en Onderhoud
Nothing to worry about? Leave the hosting and maintenance to us.
Need Help With Something Else?
Haven't found what you're looking for yet? We may be able to help you with one of our other services.
100
TEVREDENHEID- GARANTIE
Copywriting
SEO Copywriting
Copywriting is a profession in itself. To make good use of SEO, you have to take into account certain factors when writing the texts. Think of keywords, titles, the length of the text and link structure. No time or no inspiration for writing web copy? Leave it to our experienced copywriters.
Maintenance
Website maintenance
A website must be maintained so that it always works optimally, and is and always remains secure. If this is not done, the chance of being hacked is greater and you cannot guarantee the safety of your users. So make sure your website is up-to-date or leave the updating of servers, software and plug-ins to us.
A distinctive logo makes you more visible and helps for good brand building. A logo is a logo and therefore sticks more quickly in the minds of consumers. No logo for your company yet? Or do you want a new logo? Our designers are trained to design sleek, professional and innovative logos.
SEO
Ranking Higher in Google
Search engine optimization (SEO) is the best way to appear higher in Google's search results. Google has its own algorithm and no one knows exactly how it works, but there are certain factors that are known to work. We specialize in this and can get your website higher in Google.
Branding
Have a corporate identity developed
With a logo comes a corporate identity. A website with its own house style that matches the logo and the brand looks well-organized and is recognizable for visitors. Think of primary and secondary use of color, certain recurring shapes and font. Our designers are happy to create a personal corporate identity for your company.
SEO not enough? Then advertising is for you! We provide SEA for your website to become even more visible on Google and other search engines. The success and cost of advertising through Google depends on several factors, such as the quality of the ad and the keywords.
Do You Also Want A Website That Converts & Sells?
Get Big is a professional web design agency and offers various types of web design services. Do you want more information? Leave your details and we will contact you.
Free SEO Checklist (NL)
Is your website SEO Proof? Subscribe to our newsletter and download our SEO checklists (NL) for free
Frequently Asked Questions
Do you also make webshops?
Yes, of course. Websites, Webshops and even Jobs websites.
What if I am not satisfied?
Then we will continue until you are!
Can I also lease a website?
Yes, we have recently also started leasing websites
Am I obliged to host with you?
No, we can also place the new website on your own hosting.
Can I make adjustments myself later?
Yes, this is not a problem
What if I later have a problem with my website?
Then we would be happy to look for a suitable solution together.
These Customers Preceded You
Take a look at our portfolio and view our previous work
What Customers Say About Us
Of course you don't have to believe us. Believe our Customers! Read here the experiences of the people who have gone before you
Carousel overslaan
Marieke v dr Plaat
BellyBuddy
I got to know Nick when Get Big was in its infancy. Always interested and time to explain things. His passion and interest in everything related to visibility and findability on the internet inspired me to place all this with him with confidence. So that I can focus on what I'm good at.
Maurien Zuiderwijk
Fitter Sport
Clear and clear communication. Questions, requests or changes are handled immediately! Fine cooperation.
Dennis de Beeld
Immunowars
Get Big Marketing has built websites for both my two companies. Very fast switching and friendly and good entrepreneur with high quality. In any case, I will never change partners again!
"Very nice to work with Get Big. You always know where you stand"
Onze Meest Recente Blogs
We regularly write blogs about Web design, Social Media and other marketing-related topics. Do you want to stay informed? Then sign up for our newsletter
Search Engine Optimization
What is SEO?
When you start a business, it makes sense these days that you have a website. So you create a website, you put a lot of time into it and you're happy with the result. Bring on the customers! But, those customers don't come. The website is bad until not findable via Google and there are hardly any […]
Nick Plokkaar
December 18, 2021
Search Engine Optimization
What is EAT?
In short: EAT stands for Expertise, Authority and Trustworthy and is seen by many as the foundation for SEO. Don't know what SEO is yet? Read first: What is SEO? What is EAT? If you have a website, you naturally want it to attract as many visitors as possible. To give this goal a higher chance of […]
Nick Plokkaar
December 18, 2021